When Londoner Debbie Parr-Nash wanted a new chair to go with a formal sofa, chair and ottoman in her home, she turned to a local custom furniture maker.
" I really wanted to keep the sofa ad chair because they are good quality pieces of furniture." says Parr-Nash worked with interior decorator Nancy Bangsboll who helped her choose fabrics and recommended Schuenemans, a London reupholsterer and custom furniture maker. In addition to having the new chair made Parr-Nash had Schuenemans overhaul and reupholster the existing suite.
The furniture is much more comfortable to sit on now, and the cushions fit better, says Parr-Nash
" I would never buy ready made furniture again." She says. "You have more choices in fabric and stuffing with custom and the furniture can be to the sizes of the people who will be using it "
" I bring up the idea of custom furniture with all my clients because I think that it is a smart thing to do," says Bangsboll." I tell my clients to go shopping first," she adds "If you see a piece of furniture that you just love and the scale of it its in your room and price range, then you should buy it. It doesnít make any sense to make something that is already on the store floor. But a lot of people have trouble finding that ideal piece."
" You can get exactly what you want," says Keith Schueneman. " Because you 're dealing directly with the manufacturer, your choices are unlimited." The customer has a hand in the design and construction and how it fits, he says "we'll build a piece to the stage where the customer can come in and sit on it to make sure that it is proportionately correct for them" He says.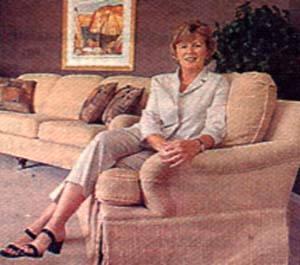 Debbie Parr-Nash's home features a custom-made Swivel rocker and couch that are big on comfort

"They can decide on the foam density and whether they want feathers. Seat cushions can have a foam core and a feather wrap and the back cushions can be completely filled with feathers. Itís more expensive but it is the ultimate in comfort."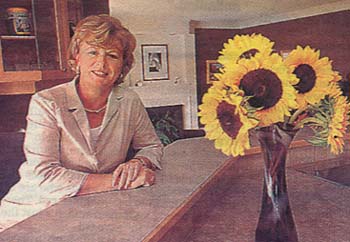 "You have more choices in fabric and stuffing with custom and the furniture can be made to the sizes of the people who will be using it."
---
Schueneman's frequently receives request for his n' hers chairs made to fit their owners. " The husband might be 6-3 and his wife 5-6," says Gil Schueneman. "They will sit in one of our tub chairs and it will fit one of them but not the other one so we build two different size chairs."
Besides comforting the size of the user furniture must also be in proportion to the size of the room, and that is anther reason for choosing custom says Bangsboll." A lot of ready made furniture is very big these days and it just doesnít fit most rooms" she says " if the furniture is so big it over powers the room, you run out of space to walk and the room becomes suffocating -it doesnít have a good feel to it.

"Smaller furniture can still be comfortable and smart, just made to scale in a small room." When you choose custom furniture, any requirements can be accommodated. " I had a older client once whose sofa had to be the right size for her to lie down and take her afternoon nap. She also wanted enough room for her dog to sleep at her feet," Bangsboll says, "so I measured the room, the client and the dog!"

" A custom piece of furniture ...is not necessarily more expensive than something you would buy from a good quality retailer," Keith adds " It's not inexpensive, but the quality is superior to anything you can buy ready made. And it last just Gil and Keith Schueneman, who occasionally reupholster one of the sofas made by their father in the 1950's or 60's. "Itís usually clients kids who are bringing the furniture in to be reupholstered. Thereís nothing wrong with the frame, its just the cover that gets worn out," says Gill "Custom Furniture is a life long investment."