Watching a movie in Londoner Berard Borschke's basement is no ordinary experience.
As you sink into your seat, Borschke hits the play button, prompting the room lights to gradually dim and the drapes behind you to glide closed .

Suddenly, the sound of a burst of gunfire behind your left shoulder causes you to shift in your chair. Explosions rip through the room as the entire wall in front of you erupts in flames. You're not just watching a movie, you're right in the middle of the battle field. "The whole house shakes when the war is going on," Borschke says with a chuckle. Borschle is one of a growing number of consumers who are seeking a true movie experience in the comfort of their own home.

"we have all the ambience of a custom theater," says Borschke. "it's the same feeling as a movie theatre."

" Installing a home theatre has become quite popular . The market is growing exponentially" says Rick Ho, co-owner of London Audio and co-ordinator of the design and installation of Borscke's homes theater system.

"A home theatre, is the perfect use for that underused basement space . The basement becomes a gathering place for the entire family. Home theatre, therefore, has an appeal in terms of entertainment value and also in terms of utility of space ."

Ho makes a clear distinction between large televisions and true and true home theatre projection technology." The major dividing line between most home theaters is the type of video display device ," Ho explains. "Certainly, you can play a movie through a 27-inch TV with surround speakers, but it doesn't have that larger- than- life impact.

" The real transformation for people is when a six foot or eight foot (diagonal measurement) screen is installed in their home. they encounter the same emotional rush that they get in a movie theatre.

"That's an entirely new concept to most people."

A number of recently introduced technologies contribute to the high quality home theatre experience that is available for today's consumers.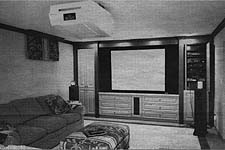 "In my opinion , the most useful improvements has been in source material," Ho says" Up until three years ago we had to rely on the lowly VHS videotape as our principal media. One major breakthrough in the past few years has been the introduction of DVD (digital versatile disc. commonly referred to as digital video disc). Another has been the advent of digital directional satellite service."
" DVD offers us almost three times the resolution, superior color accuracy and much better sound quality than had on videotape," Says Ho.
Digital satellite service is not quite as good as DVD, but it still offers around twice the resolution videotape and comparable sound quality he adds.
Another technology that has been around for a while but has only recently come down in price is line doubling or scaling.
"Line doubling allows us to present twice as much video information on the screen at as much video information on the screen at any one time as you would see with a regular TV broadcast," Ho says. " The end result s that the black horizontal scanning lines that run across the screen are essentially filled in."
Incorporating these new technologies into a home theater configuration will further enhance the movie experience. Generally, says Ho, three speakers are mounted behind the screen, one speaker is positioned on each side or just behind the main seating position, and a sixth speaker, dedicated to producing the base sound effects, is placed at the front of the room.

A comfortable chair in which to absorb the sights and sounds of the movie is essential to full enjoyment of a home theatre. Sectional furniture, which can be easily moved around to create a cozy couch or a number of individual chairs, is versatile and practical.
Offering the ultimate in luxury, custom-made home theatre chairs have recently appeared on the market.
Schueneman's, a local firm that manufactures, upholsters and refinishes furniture, recently completed five custom theatre chairs for a London family.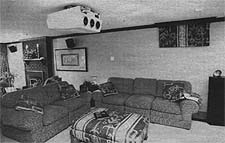 "The customer came into our workshop with pictures of different chairs from home theatre magazines," says Gil Schueneman. "Together, we came up with a design that was a combination of many styles."
The upholstered chairs, which were the first theatre chairs of this type that Schueneman's has manufactured, consist of a kiln-dried hardwood frame covered in chenille fabric, which is soft to touch but hardwearing. The seat and back cushions are feather filled for comfort and a cup holder is built into the arm rest . The head support has been designed to allow viewers to lean back and relax without obscuring the surround sound audio system. At about $1,300 each, the price is much lower than similar chairs advertised in American home theatre magazines, Gil Says.
In the customer's home, the chairs have been placed in a tier, with three chairs on the upper deck and two on the main floor. "Everybody gets to sit in the hot in this room," Ho says.
The success of Schueneman's home theatre chair design has prompted the company to produce a new design.
"We will continue to work with the customer to build in the features they want," says Gil.